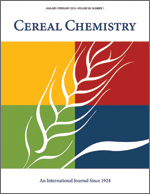 Cereal Chem 54:13 - 24. | VIEW ARTICLE
Binding of Crumb Softeners and Dough Strengtheners During Breadmaking.

V. A. De Stefanis, J. G. Ponte, Jr., F. H. Chung, and N. A. Ruzza. Copyright 1977 by the American Association of Cereal Chemists, Inc.

Studies were conducted to determine whether preferential binding of crumb softeners and dough strengtheners occurs at various stages of the sponge-and-dough breadmaking process. The additives studied were sodium stearoyl-2-lactylate, succinylated monoglycerides, and monoglycerides. The obtained results indicated that very little binding by the major flour components occurred at the sponge stage. During dough-mixing, the additives were firmly bound by the gluten proteins. In bread, the additive was strongly bound to the starch. To gain some insight on how the translocation occurred during baking, model system studies were conducted between the proteins and the additive as related to temperature. The effect of both temperature and pH on the starch-additive complex formation was also studied. Further studies showed that a crumb softener formed a complex with both the amylose and amylopectin fractions of starch in bread. In addition to the additives, the triglycerides, free fatty acids, and lysolecithin were also found bound to the starch.