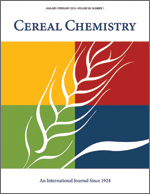 Cereal Chem 54:53 - 63. | VIEW ARTICLE
Rheological and Baking Studies of Legume-Wheat Flour Blends.

B. L. D'Appolonia. Copyright 1977 by the American Association of Cereal Chemists, Inc.

Flour was obtained from faba beans, pinto beans, navy beans, mung beans, and lentils by dry milling. Pinto and navy bean flours were slightly grayish in color, while the remaining flours were varying degrees of yellowness. Rheological and baking properties of blends containing 5, 10, and 20% of the legume flours with a hard red spring wheat flour were investigated. As the legume flour level was increased, farinogram dough developing time and stability decreased. Incorporation of Emplex (sodium stearoyl-2-lactylate, SSL) increased dough strength. Extensigram data showed a reduction in the proportional number (R/E) as the percentage of legume flour in the blend was increased. Loaf volume of bread decreased as the level of legume flour was increased; however, incorporation of SSL produced acceptable bread at the 5 and 10% levels. A 2-hr fermentation with higher oxidation levels than the control flour produced the best bread for the various blends. Bread containing 5 or 10% legume flour showed a whiter crumb color compared to the control loaf.