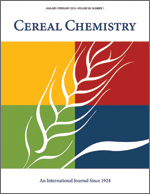 Cereal Chem 54:64 - 69. | VIEW ARTICLE
Effect of Storage Time on Agtron Reflectance Values of Flour.

C. A. Watson and W. C. Shuey. Copyright 1977 by the American Association of Cereal Chemists, Inc.

Samples of hard red spring (HRS) wheat patent and selected mill stream flours were stored at ambient conditions for 6 months. In addition, six samples each of HRS straight-grade and extended extraction flours of about 80% extraction were stored at ambient conditions for 2 months and at 38 C for 1 month. No pronounced changes occurred in the green or blue Agtron values of the flours during the storage periods, indicating that flour color as measured by the Agtron is essentially stable.