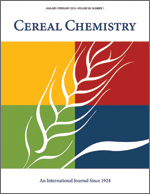 Cereal Chem 54:70 - 78. | VIEW ARTICLE
Protein and Oil in Corn: Variation by Crop Years from 1907 to 1972.

F. R. Earle. Copyright 1977 by the American Association of Cereal Chemists, Inc.

Since 1907, the protein content of commercial corn (as reported by certain individual companies) has varied between 9.1% (1951) and 11.9% (1934). Since 1937, the protein content has been much the same as it was from 1907 to 1929. From 1930 to 1936, protein content was unusually high. A relation between high protein and high July temperature is obvious in the hotter years but not in the cooler ones. A slight inverse relation is suggested between protein and July rainfall and, for the early years, between protein and yield. Oil content since 1917 has varied from 4.0 to 4.9%, but no reason has been found for year-to-year variation.