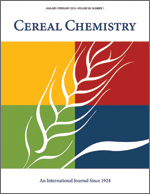 Cereal Chem 54:92 - 109. | VIEW ARTICLE
Factors Affecting Mechanical Dough Development. V. Influence of Rest Period on Mixing and "Unmixing" Characteristics of Dough.

K. H. Tipples and R. H. Kilborn. Copyright 1977 by the American Association of Cereal Chemists, Inc.

Mixing studies were carried out on doughs containing flour-water, flour-water-salt, and full baking formula. When a rest period (e.g., 2-16 min) was introduced between an initial short premix and continuation of dough mixing to optimum development, consistency level (torque) was markedly higher when the mixer was restarted, then dropped somewhat before increasing to a peak level. Introduction of the rest period reduced the time subsequently required to mix to peak consistency. These effects were more pronounced with longer rest periods and at higher absorptions (e.g., 80 and 100%). When dough was mixed to peak consistency, rested, and the mixer restarted, consistency immediately dropped sharply (suggesting a disorientation or "unmixing" effect), before increasing again to a peak. Baking studies confirmed that a rest period exaggerates the unmixing effect, which may take place even when a developed dough is subsequently remixed for a very short time at high speed. Ths "destructive" phase, marked by a deterioration in dough and bread properties, was not observed when rested doughs were processed directly with sheeting rolls.