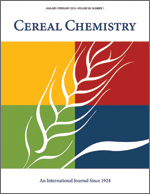 Cereal Chem 54:1171 - 1181. | VIEW ARTICLE
Electron Microscope Research on Sun flower Protein Bodies.

K. Saio, D. Gallant, and L. Petit. Copyright 1977 by the American Association of Cereal Chemists, Inc.

Protein bodies in sunflower seeds were investigated primarily by means of several electron microscopic techniques. The cotyledon cells in sunflower seeds observed with a scanning electron microscope (SEM) or a transmission electron micrscope (TEM) contained numberous protein bodies and spherosomes, as in other oilseeds. Protein bodies were isolated by sucrose gradient centrifugation; their surfaces were markedly uneven, as revealed in SEM-images. The results of energy-dispersive analysis of X-rays combined with a SEM suggested that the projecting points of protein bodies were richer in phosphorus than the depressed points, and that they might correspond to crystaloid-type inclusions (or globoids) observed in a TEM- image.