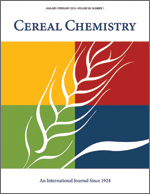 Cereal Chem 54:1182 - 1191. | VIEW ARTICLE
Properties of Wheat Flour Protein in Flour from Selected Mill Streams.

P. N. Nelson and C. E. McDonald. Copyright 1977 by the American Association of Cereal Chemists, Inc.

The flour protein of eight selected streams from a pilot mill was studied. The protein content of flour streams from four varieties varied from 11 to 25% with the first and fourth midd streams being the lowest and the fifth break flour streams the highest. Yield of wet and dry gluten from the protein of flour streams was rather constant even though the protein contents of streams were markedly different. The protein fractions of two varieties were quantitatively determined by gel filtration. The relative amounts of the flour protein as the protein fractions glutenin, gliadin, albumin, and nonprotein nitrogen were a little different between flour streams, but the differences were not the same between the two varieties tested. Amino acid scores calculated from complete amino acid analysis indicated that lysine and threonine are nutritionally the first and second limiting amino acids, respectively, and the nutritional quality of the protein in different streams varies little.