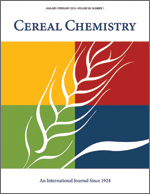 Cereal Chem 54:1207 - 1217. | VIEW ARTICLE
Ergosterol as an Indicator of Fungal Invasion in Grains.

L. M. Seitz, H. E. Mohr, R. Burroughs, and D. B. Sauer. Copyright 1977 by the American Association of Cereal Chemists, Inc.

The extent of preharvest fungal invasion in grain sorghum, wheat, and corn samples measured by an ergosterol assay was compared to results from plating surface-disinfected seeds. Ergosterol content and percentage of kernels with fungi increased in sorghum which was harvested at successively later dates. Assays of wheat samples showed a close relation between ergosterol level and invasion by field fungi and/or with weather conditions known to favor fungal invasion. The ergosterol assay gave a quantitative estimate of previous invasion by fungi even though the fungi were no longer viable. Corn kernels with obvious fungal damage had as much as 200 microgram/g ergosterol, while freshly harvested sound kernels contained as little as 0.2 microgram/g. Ergosterol was quantitated by high-pressure liquid chromatography, and also could be estimated from ultraviolet spectroscopy of sterols obtained by thin-layer chromatography.