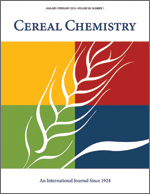 Cereal Chem 54:1218 - 1222. | VIEW ARTICLE
Studies on Waste Potato Starch and Corn in Urea-Containing Liquid Supplements Using In Vitro Rumen Fermentation.

E. R. Skoch, S. F. Binder, and C. W. Deyoe. Copyright 1977 by the American Association of Cereal Chemists, Inc.

Hydrothermally processed starch:urea mixtures employed in urea- containing liquid supplements were shown to improve nitrogen (N) use through in vitro rumen fermentation. Starch sources used were potatoes and corn. The Starch source was blended with feed-grade urea (45% N) and water in a specific starch source:urea ratio, then hydrothermally processed. Phosphoric and propionic acids were added to lower pH and to act as an antifungal agent, respectively. In vitro microbial protein synthesis showed the 1.63:1 potato-based supplement on an as-is basis had more protein synthesized (P less than 0.05) than did either the 1.90:1 potato- or 1.83:1 corn-based liquid supplement. However, on a dry basis, the corn-based supplement had more protein synthesized (P less than 0.05) than either of the potato-based supplements. Compared with a 1.83.1 corn-based supplement, a 1.83:1 potato product performed equally well or better, based on microbial protein synthesized.