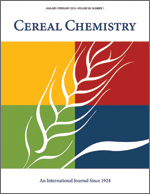 Cereal Chem 54:1249 - 1258. | VIEW ARTICLE
Effect of Strength and Concentration of Acid on the Functional Properties of Solubilized Glutens of Good- and Poor-Quality Bread Flours.

D. R. Goforth, K. F. Finney, R. C. Hoseney, and M. D. Shogren. Copyright 1977 by the American Association of Cereal Chemists, Inc.

Glutens from good- and poor-quality wheat flours were solubilized in acids that varied in strength and concentration. Flours (10 g) reconstituted with solubilized and neutralized glutens plus starch and water- solubles were made into bread. Acid solubilization was detrimental to loaf volume at pH values below 4 for glutens from good-quiality flours and at pH below about 4.85 for glutens from a poor-quality flour. Impaired loaf volume was attributed to diminished hydrogen bonding caused by cleavage of amide groups from the gluten proteins during solubilization in acid.