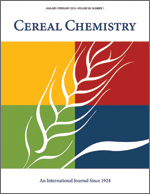 Cereal Chem 54:1270 - 1281. | VIEW ARTICLE
Alpha-Amylases from Tritical 6A190: Purification and Characterization.

M. P. Silvanovich and R. D. Hill. Copyright 1977 by the American Association of Cereal Chemists, Inc.

Alpha-Amylase was purified from malted triticale 6A190 by extraction, precipitation with glycogen, affinity chromatography on cyclohepta-amylose substituted epoxy-Sepharose 6B, and carboxymethyl cellulose ion- exchange chromatography. A yield of 25-30% was obtained with 150 to 200 fold purification. Two forms of alpha-amylase were separated by CM-cellulose ion exchange chromatography at pH 5.5. Each form was composed of several enzyme species of approximately the same subunit molecular weight (4 x 10(4)), but of different overall charge at pH 8.5. The two forms were further characterized in terms of pH optimum and stability, Km, Vmax, activation energy, temperature stability, and isoelectric point.