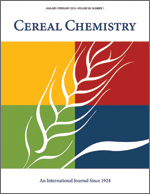 Cereal Chem 54:198 - 204. | VIEW ARTICLE
Quality Characteristics of Soft Wheats and Their Utilization in Japan. II. Evaluation of Wheats from the United States, Australia, France, and Japan.

S. Nagao, S. Ishibashi, S. Imai, T. Sato, T. Kanbe, Y. Kaneko, and H. Otsubo. Copyright 1977 by the American Association of Cereal Chemists, Inc.

Soft wheats, such as soft white, white club, and soft red winter wheats from the U.S., Victoria soft, Victoria F.A.Q., Western Austrialia F.A.Q., French, and domestic Japanese wheats were compared with respect to their utility for Japanese products. White club, soft white, and soft red winter wheats were all found to be superior to others in their suitability for making confectionery products, although white club was considered better than soft white. Small quantities of Victoria soft and some types of French and Japanese wheats can be blended with soft wheats from the U.S. in the production of confectionery flour. In spite of the low protein content, the kernel characteristics of both Australian F.A.Q. wheats were rather hard, and they were least preferable in terms of their sponge-cake baking qualities. As the material for Japanese-type noodle flour, wheats similar to Japanese wheat were considered most desirable. Although Australia F.A.Q., soft white, and white club wheats were different from Japanese wheat, they prossessed favorable characteristics for noodle flour.