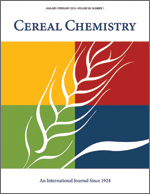 Cereal Chem 54:320 - 325. | VIEW ARTICLE
Studies of Water Binding by Differential Thermal Analysis. II. Dough Studies Using the Melting Mode.

W. Bushuk and V. K. Mehrotra. Copyright 1977 by the American Association of Cereal Chemists, Inc.

Melting thermogram differential thermal analysis (DTA) results showed that, up to about 25% moisture content, all the water in dough is of the bound type. Above this moisture content, approximately one-third of the additional water was bound and the remaining two-thirds was free (freezable) water. Doughs from flours (wheat cultivars) of different mixing strength contained approximately the same amount of bound water. Flour protein content, amount of damaged starch, dough-mixing time, and added chemicals (sodium chloride, N-ethylmaleimide, potassium iodate, ascorbic acid, and cysteine) did not affect the amount of bound water as determined by the malting mode DTA.