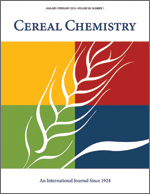 Cereal Chem 54:366 - 372. | VIEW ARTICLE
Aflatoxin and Aspergillus flavus Occurrence in 1975 Corn at Harvest from a Limited Region of Iowa.

E. B. Lillehoj, D. I. Fennell, and W. F. Kwolek. Copyright 1977 by the American Association of Cereal Chemists, Inc.

Freshly harvested corn (18.4% moisture average) from the 1975 crop was examined for Aspergillus flavus Link ex Fr., bright greenish-yellow (BGY) fluorescence, and aflatoxin. The survey was in three counties of west central Iowa and in one centrally located county. In all, 214 samples of shelled corn were collected and dried to 13% moisture or less within 4-156 hr after harvest. About one-half of the samples exhibited BGY fluorescence in cracked fractions, and 17% contained detectable levels of toxin. However, only four samples had aflatoxin B1 levels exceeding 20 ppb, with the highest concentration at 56 ppb. Visual examination of ears on standing stalks was carried out in 8 fields; 11 ears with greenish-yellow spores were found. Corn from these ears was contaminated with a wide array of toxin levels ranging from 1 ppb to 1560 ppb.