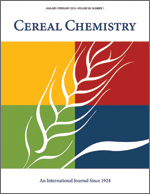 Cereal Chem 54:605 - 615. | VIEW ARTICLE
Effects of Mixer Speed, Dough Temperature, and Water Absorption on Flour-Water Mixograms.

M. M. Baig and R. C. Hoseney. Copyright 1977 by the American Association of Cereal Chemists, Inc.

Effects of mixer rpm, dough temperature, and water absorption on mixing time and curve height of flour- water mixogram were studied by a response surface technique. Three flours with medium mixing requirements, but various protein contents, and a fourth with a longer mixing requirement were used. Mixer speed was varied from 70 to 170 rpm: dough temperatures, from 25 to 40 C, and absorption, +/-3% from optimum. As expected, increased mixer speeds decreased mixing times. Increased dough temperatures and water absorption decreased curve height and increased mixing time. However, the effect on mixing time was less pronounced at high mixer speed than at low mixer speeds. Baking tests on dough mixed at different mixer rpm showed that dough mixed at 104, 124, or 134 rpm had essentially equal characterics, while dough mixed at 84 rpm produced bread with inferior grain.