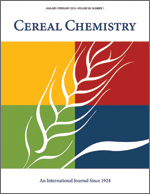 Cereal Chem 54:638 - 645. | VIEW ARTICLE
Compositional Changes in the Developing Grain of High- and Low-Protein Wheats. I. Chemical Composition.

G. R. Donovan, J. W. Lee, and R. D. Hill. Copyright 1977 by the American Association of Cereal Chemists, Inc.

The kernel development of high- and low-protein wheat cultivars (cv. Timgalen and cv. Heron, respectively) was examined in an attempt to account for their genotypically determined differences in protein content. The high-protein cultivar yielded higher amounts of protein (N x 5.7) per kernel and lower kernel weight than did the low-protein cultivarl. Up to day 30, nonprotein-nitrogen levels were higher in developing grain of the high-protein cultivars. The quantity of starch per kernel was only marginally different in corresponding crops of the two cultivars, and differences in kernel weight appeared to be largely due to increased levels of carbohydrates other than starch in the low-protein cultivar. All crops showed a maximum dry weight and maximum nitrogen per kernel approximately two weeks before the grain was mature. It is suggested that the loss of dry weight and total nitrogen during the later stages of maturation is due to movement of soluble material out of the grain to other parts of the head.