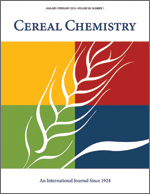 Cereal Chem 55:7 - 15. | VIEW ARTICLE
Saltine Cracker Flavor. I. Changes in Organic Acids and Soluble Nitrogen Constituents of Cracker Sponge and Dough.

H. A. Faridi and J. A. Johnson. Copyright 1978 by the American Association of Cereal Chemists, Inc.

Total soluble nitrogen, peptides, primary amines, and ammonia formed in cracker doughs as a result of lengthy fermentation were measured. All components increased significantly with 20 hr sponge fermentation. Proteolytic and hydrogen ion activities also increased steadily. Lactic acid was predominantly produced, followed by acetic and smaller amounts of propionic, butyric, valeric, and isovaleric acids.