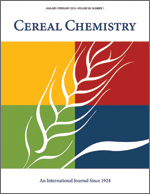 Cereal Chem 55:31 - 43. | VIEW ARTICLE
Defatted and Reconstituted Wheat Flours. III. Effects of Flour Moisture Content and Aqueous Binary Azeotropes on Functional (Breadmaking) Properties.

O. K. Chung, Y. Pomeranz, K. F. Finney, and M. D. Shogren. Copyright 1978 by the American Association of Cereal Chemists, Inc.

Lipid extractability increased when the water content of wheat flour was raised from 1.2 to 13.8% or when aqueous binary azeotropes were used as extractants instead of pure organic solvents (hexane, acetone, and 2-propanol). Rheological dough properties (mixograph) and baking characteristics of the defatted and reconstituted flours were affected by moisture content of either flour samples or the solvent systems. Adverse effects on rheological and breadmaking properties were smallest for hexane and largest for 2- propanol. The adverse effects increased with water content of the flour, especially from 7.2 to 13.8%, or by addition of water to the solvent.