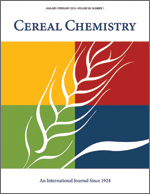 Cereal Chem 55:87 - 95. | VIEW ARTICLE
Effects of Mixing and Surfactants on Microscopic Structure of Wheat Glutenin.

C. C. Tu and C. C. Tsen. Copyright 1978 by the American Association of Cereal Chemists, Inc.

Glutenin was extracted with 0.1M acetic acid, 3.0M urea, and 0.01M cetyltrimethyl ammonium bromide and later purified with SE-Sephadex C-50. Scanning electron microscopy data showed that the structure of glutenin that was isolated from flour differed from that of glutenin from mixed dough. With mixing, glutenin could be stretched and spread to form a sheet-like structure. Further mixing could reduce the size of the sheet-like structure. Glutenin appeared to bind with surfactants and form glutenin-surfactant complexes. The size of the complexes was smaller when the glutenin that was used for the interaction was isolated from flour or overmixed dough than when it was isolated from optimum mixed dough. Between the surfactants tested, sodium stearoyl-2 lactylate was more effective with glutenin than was sucrose monopalmitate-forming complexes.