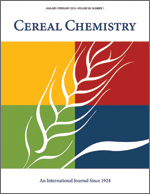 Cereal Chem 55:661 - 670. | VIEW ARTICLE
Isolation and Characterization of Starch from Mature Soybeans.

L. A. Wilson, V. A. Birmingham, D. P. Moon, and H. E. Snyder. Copyright 1978 by the American Association of Cereal Chemists, Inc.

Starch was identified and isolated from mature Amsoy 71 soybeans. Starch also was identified in ten different soybean cultivars. The starch from Amsoy 71 soybeans contained 15-20% amylose, was estimated to be 0.80 +/- 0.03% of the dry weight, had a density of 1.51 g/ml, and had a gelatinization temperature in the range of 73-81 C. The starch granules were smooth ovoids averaging 3 micrometers in length, existed as compound granules in the amyloplast, and were abundant near the center of the cotyledon but less prevalent near the periphery.