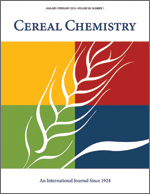 Cereal Chem 55:671 - 674. | VIEW ARTICLE
Bacillus Isolates from Refrigerated Doughs, Wheat Flour, and Wheat.

R. F. Rogers. Copyright 1978 by the American Association of Cereal Chemists, Inc.

Bacillus species were isolated from refrigerated doughs, wheat flour, and wheat samples. Fifty-three isolates from refrigerated doughs were identified as B. cereus, B. licheniformis, B. pumilus, or B. subtilis. In addition to these four species, B. brevis, B. coagulans, and B. megaterium were among 31 isolates from wheat flour. Eleven isolates from wheat were identified as B. brevis, B. cereus, B. circulans, or B. licheniformis. None of the species was found in all of the samples.