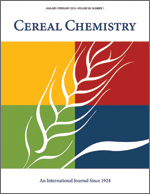 Cereal Chem 55:675 - 682. | VIEW ARTICLE
Interaction and Bioavailability of Iron, Zinc, and Magnesium.

G. S. Ranhotra, R. J. Loewe, and L. V. Puyat. Copyright 1978 by the American Association of Cereal Chemists, Inc.

Interaction and bioavailability of iron, zinc, and magnesium was assessed using young rats fed diets containing the required levels (iron, 25 ppm; zinc, 12 ppm; magnesium, 400 ppm) and half the required levels of each of these minerals. Growth appeared to be maximum on all diets, and although diet efficiency reflected slightly on mineral bioavailability and interaction, concentration of minerals in sensitive tissues and their absorption furnished more convincing evidence of bioavailability and interaction. Bioavailability of test minerals, especially of iron and zinc, increased appreciably with raised dietary levels. Although some interaction between minerals was also observed and in spite of complexity of interpretation, the magnitude of mineral interaction appears to be of little physiologic significance when sources of high bioavailability are used.