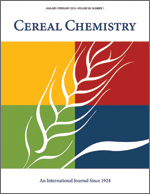 Cereal Chem 55:683 - 691. | VIEW ARTICLE
Rheological Dough Properties as Affected by Organic Acids and Salt.

A. M. Galal, E. Varriano-Marston, and J. A. Johnson. Copyright 1978 by the American Association of Cereal Chemists, Inc.

Farinograph studies showed that a combination of organic acids isolated from San Francisco sourdough and NaCl profoundly affected dough properties. Mixing time and stability of dough were greatly decreased when organic acids alone were added. Salt had the opposite effect, however, it increased mixing time and dough stability. Combinations of organic acids plus 1.5% NaCl tremendously increased mixing time and dough stability. The original mixing profile of flour could be restored by decreasing the level of NaCl from 1.5 to 1.0%, or by adding 40-80 ppm cysteine-HCl. A hypothesis describing possible changes in gluten structure may explain the action of salt on the behavior of dough at low pH.