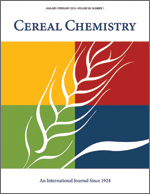 Cereal Chem 55:699 - 704. | VIEW ARTICLE
Effect of Free Flour Lipids on Cake-Baking Potential.

R. D. Spies and A. W. Kirleis. Copyright 1978 by the American Association of Cereal Chemists, Inc.

Chlorinated and unchlorinated flours from four wheat varieties were extracted with hexane, and the free lipids were removed. The free lipids were reconstituted with extracted-chlorinated flour and baked using lean and rich cake formulas. Flours without free lipids produced smaller cakes with poorer textures than did flours with free lipids. Most of the original quality was restored when the free lipids were returned. Flours reconstituted with unchlorinated lipids produced larger cakes with poorer textures than did those reconstituted with chlorinated lipids. Evidence suggests that the cake-baking potential of a flour is not governed by the free lipid fraction of the flour.