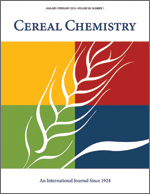 Cereal Chem 55:705 - 711. | VIEW ARTICLE
Origin of High Methionine Content in Sugary-1 Corn Endosperm.

J. W. Paulis, J. S. Wall, and J. Sanderson. Copyright 1978 by the American Association of Cereal Chemists, Inc.

The endosperm proteins of two sugary-l (su1) corn inbreds (B37 and Oh43) contain 21 and 36%, respectively, more methionine than does the protein of their normal counterparts. Increases in amount and methionine content of alcohol-soluble reduced glutelin (ASG) proteins contribute to the increased methionine in su1 endosperm. The salt-soluble and alcohol-insoluble reduced glutelin proteins constitute a greater proportion and zein a smaller proportion of the su1 endosperm protein compared with the relative amounts of those proteins in the endosperms of normal counterparts. These changes are accompanied by 32 and 56% increases in the su1 endosperm content of lysine over that of normal endosperms. The changes in protein distribution seem to be affected by the background into which the su1 is introduced, because a commercial sweet corn containing su1 gene did not exhibit an increased content of ASG protein and less zein than did the dent inbreds.