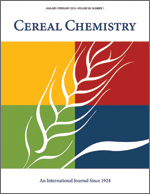 Cereal Chem 55:736 - 743. | VIEW ARTICLE
Effect of Bran and High-Protein Concentrate from Oats on Dough Properties and Bread Quality.

B. L. D'Appolonia and V. L. Youngs. Copyright 1978 by the American Association of Cereal Chemists, Inc.

Effects of bran and high-protein concentrate from oats on dough properties and bread were studied. Bran from dry-milled commercial oatmeal increased farinograph absorption and maintained dough stability to a greater degree than did bran from dry-milled oat groats of a pure cultivar. At equal levels of addition, loaf volume was lower for oat than for wheat bran, but panelists preferred oat bran bread over wheat bran bread. Addition of protein concentrate from oats also increased absorption and decreased loaf volume; defatting the concentrate increased the detrimental effect. Bread containing 10 or 20% oat bran was accepted better than was bread containing the corresponding level of wheat bran.