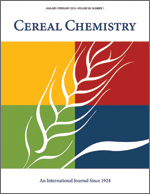 Cereal Chem 55:754 - 765. | VIEW ARTICLE
Alpha-Amylase I from Malted Barley---Physical Properties and Action Pattern on Amylose.

A. W. MacGregor. Copyright 1978 by the American Association of Cereal Chemists, Inc.

Alpha-Amylase I hydrolyzed amylose to a mixture of maltodextrins. Dextrins smaller than G7 were hydrolyzed slowly. The enzyme had a molecular weight of 52,000, an isoelectric point of pH 5.1, an activation energy of 9.7 kcal/mol between 20 and 50 C, an optimum temperature of 55 C, and an optimum pH of 5.5. In addition, the enzyme showed unusually high stability at pH 3.6.