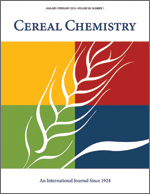 Cereal Chem 55:102 - 109. | VIEW ARTICLE
A Parallel Plate Rheometer for Measuring the Viscoelastic Properties of Wheat Flour Doughs.

G. E. Hibberd and N. S. Parker. Copyright 1978 by the American Association of Cereal Chemists, Inc.

A parallel plate rheometer suited to measuring various rheological functions in described. This instrument uses a linear air-bearing and maintains constant spacing between the plates to ensure that the sample deformation is simple shear. The ancillary measuring equipment can be changed without alteration to the sample cell so that the instrument can easily be adapted for other rheological measurements, for example, stress relaxation and dynamic measurements. Some results of creep and creep recovery measurements on doughs are reported to illustrate the use of the instrument.