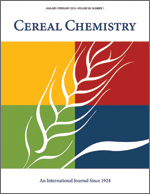 Cereal Chem 55:981 - 994. | VIEW ARTICLE
Near Infrared Diffuse Reflectance Standards.

R. Tkachuk and D. P. Law. Copyright 1978 by the American Association of Cereal Chemists, Inc.

Diffuse reflectance characteristics were examined for sulfur, polytetrafluoro-ethylene (PTFE), a mixture of sulfur and PTFE, MgO, smoked MgO, BaSO4, fused Teflon, ceramics, kaolin, opal glass, aluminum, brass, and gold in the 1.0-2.6-micro region. Sulfur pressings gave the highest, most uniform reflectance of all materials examined. Thus, sulfur is a suitable material as a reflectance standard in the near infrared region.