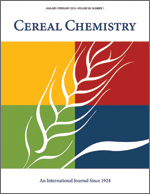 Cereal Chem 55:591 - 597. | VIEW ARTICLE
Oat Lipids.

V. L. Youngs. Copyright 1978 by the American Association of Cereal Chemists, Inc.

Oat groats contain 5-9% free and 1.5-3% bound lipids. The highest lipid concentration is in the oat embryonic axis and scutellum, but most of the total oat lipid is associated with bran and endosperm because of their greater abundance. Several components have been identified and measured, and over 40% of the total crude lipid is triglyceride. Fatty acid composition of oat lipids is prmarily palmitic acid (16-22%), oleic acid (28-40%), and linoleic acid (36-46%). Lipid concentration in the groat is heritable, and preliminary evidence indicates that the fatty acid composition of oat lipids also may be heritable. The main synthesis of oat lipids takes place early in seed formation while the seed still contains more than 50% water. Lipids in oats are quite stable unless the groat is cracked or ground; then the enzyme lipase catalyzes the release of fatty acids. Rancidity will result eventually from degradation of these fatty acids.