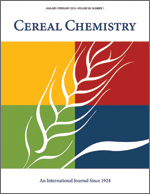 Cereal Chem 55:598 - 618. | VIEW ARTICLE
Wheat Flour Lipids in Breadmaking.

O. K. Chung, Y. Pomeranz, and K. F. Finney. Copyright 1978 by the American Association of Cereal Chemists, Inc.

This review on the role of wheat flour lipids provides an updated discussion of factors affecting the functional (breadmaking) properties of defatted and reconstituted wheat flours; lipid binding during wetting or dough mixing; lipid oxidation during dough mixing; interaction between lipids and starch granules; and functional properties of flour lipids in breadmaking. The review also discusses models proposed by several scientists on interaction of lipids with wheat flour, dough and bread macromolecules.