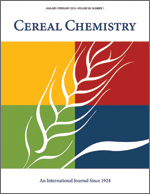 Cereal Chem 56:29 - 33. | VIEW ARTICLE
Humidity Effects on Textural Characteristics of Sugar-Snap Cookies.

M. E. Zabik, S. G. Fierke, and D. K. Bristol. Copyright 1979 by the American Association of Cereal Chemists, Inc.

Sugar-snap cookies were prepared with a high and a low quality cookie flour and equilibrated for five days at six relative humidities. Textural characterics of the moisture-equilibrated cookies were evaluated in two independent studies. In the first, relative humidities ranged from 11 to 93%, in the second, the range was from 52 to 79%. Crispness determined as breaking strength using the single blade cell and tenderness using the standard shear compression cell with the Allo Kramer Shear Press were determined in both experiments. In addition, breaking strength and compressibility were determined with the Instron Texturometer for cookies prepared in the second experiment. Storage relative humidity affected significantly all types of textural evaluation. Breaking strength, however, appeared to be the most sensitive test. Over a wide range of storage relative humidities, the relationship was linear. High storage relative humidities were most detrimental as they most often masked the expected differences between cookies prepared with high and low quality flour, but 5-10% variations in relative humidity resulted in minimal differences in textural values. Percentage moisture in the cookies also was significantly affected by and linearly related to storage relative humidity.