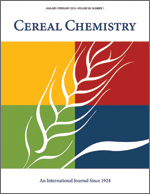 Cereal Chem 56:398 - 401. | VIEW ARTICLE
High Performance Liquid Chromatographic Analysis of Fatty Acid Derivatives from Grain and Feed Extracts.

T. N. Tweeten and D. L. Wetzel. Copyright 1979 by the American Association of Cereal Chemists, Inc.

Extracts of fat from a number of grains and feedstuffs were chromatographed as their p-bromophenacyl esters in a methanol/water solution with a 10-micrometer octadecyl silane bonded phase column, an ultraviolet detector, and an internal standard. The lipid extract was converted readily to the derivative without isolation of the intermediate fatty acid salts or necessity of anhydrous conditions. Relative quantities of fatty acids of the various extracts were determined. Parallel analysis of the fat extracts by gas chromatography of the corresponding methyl esters showed that the high performance liquid chromatographic analysis described was a comparable alternative, except that palmitic and oleic acid were not resolved using the isocratic system.