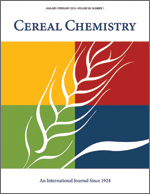 Cereal Chem 56:424 - 426. | VIEW ARTICLE
Frozen Dough. II. Effects of Freezing and Storing Conditions on the Stability of Yeasted Doughs.

K. H. Hsu, R. C. Hoseney, and P. A. Seib. Copyright 1979 by the American Association of Cereal Chemists, Inc.

Final freezing temperature had a greater effect than the freezing rate on frozen-dough stability. The major damage to frozen-dough stability seems to be the freezing of the yeast cell, but storage conditions also affect frozen-dough stability. In general, frozen dough were less stable if their storage temperature was lower than their freezing temperature. Thawing or partial thawing of frozen doughs followed by refreezing was harmful to frozen-dough stability.