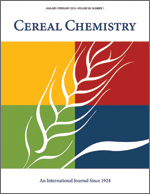 Cereal Chem 56:430 - 433. | VIEW ARTICLE
Isolation of Large and Small Granules of Barley Starch and a Study of Factors Influencing the Adsorption of Barley Malt Alpha-Amylase by These Granules.

A. W. MacGregor. Copyright 1979 by the American Association of Cereal Chemists, Inc.

An elutriation column was used to separate barley starch granules into a prime starch fraction and a secondary starch fraction with mean particle diameters of 16.7 and 1.87 micrometers, respectively. By microscopic examination, each fraction was relatively homogeneous. Secondary starch, presumably because of its greater available surface area, was more efficient than price starch in absorbing malt alpha-amylase from solution. Absorption was greatest in the pH range 5-6 and was seven times higher at 5 C than at 28 C.