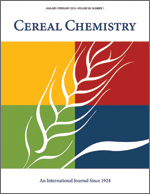 Cereal Chem 56:434 - 436. | VIEW ARTICLE
Particle Size and Particle Size Distribution of Wheat Samples Prepared with Different Grinders.

A. B. Ward, J. A. Shellenberger, and D. L. Wetzel. Copyright 1979 by the American Association of Cereal Chemists, Inc.

Using customary equipment and methods, wheat samples were ground in several European and North American Laboratories for sedimentation and falling number analysis. Samples were investigated for variation in modulus of fineness, modulus of uniformity, number of particles per unit weight, and total surface area. Laser illumination was used to measure the small particle fractions. All grinding procedures reduced most of each sample to the fine particle size range. Control of particle size distribution, for sample preparation, could be a means of achieving improved agreement among laboratories for analysis in which particle size can affect the results.