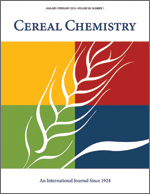 Cereal Chem 56:443 - 445. | VIEW ARTICLE
Chlorine Treatment of Cake Flours. III. Fractionation and Reconstitution Techniques for Cl2- Treated and Untreated Flours.

A. C. Johnson and R. C. Hoseney. Copyright 1979 by the American Association of Cereal Chemists, Inc.

Fractionation and reconstitution studies of Cl2-treated and untreated cake flours indicate that the starch fraction is responsible for the improved baking performance of Cl2-treated flours. Although the fractionated and reconstructed flours gave cakes with volume essentially equal to those obtained from the control (unfractionated) flours, the grain of cakes from reconstituted flours was much poorer than the controls. In this study, cakes from reconstituted flours with volume and grain essentially equal to the unfractionated flour were obtained by extracting flours with hexane before wet-fractionation and using a single-stage mixing procedure with a highly emulsified shortening system.