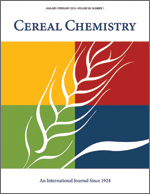 Cereal Chem 56:452 - 454. | VIEW ARTICLE
Processing Factors Affecting Air Classification of Defatted Cottonseed Flour for Production of Edible Protein Products.

D. W. Freeman, R. S. Kadan, G. M. Ziegler, Jr., and J. J. Spadaro. Copyright 1979 by the American Association of Cereal Chemists, Inc.

Processing factors evaluated for their effects on gossypol contents and yields of air-classified cottonseed flour included hull contents, moisture of cottonseed flakes before hexane extraction, flake-drying methods, residual lipids of flakes after hexane extraction, and heat treating of flakes before milling. Important factors in obtaining low gossypol cottonseed flours were maximum removal of hulls, drying of flakes to 2% moisture before extraction in a high velocity through-flow type dryer, and extraction of flakes to about 2% residual lipids. Heating before milling did not improve air-classification yields or lower gossypol content.