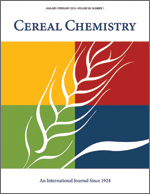 Cereal Chem 56:465 - 467. | VIEW ARTICLE
Low-Lactose Bread.

M. D. Shogren, Y. Pomeranz, and K. F. Finney. Copyright 1979 by the American Association of Cereal Chemists, Inc.

Satisfactory low-lactose white panned bread made from a dough that contains 6% sugar (flour basis) can be produced from milk that has been treated with lactase. For preparation of such bread by a straight-dough procedure, however, two requirements must be met: malt with or without sucrose must be added to the dough to supplement the amount of lactose-derived glucose, and the lactase-treated milk, like regular milk, must be heat treated.