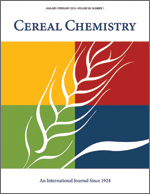 Cereal Chem 56:473 - 474. | VIEW ARTICLE
Extraction of Proteins from Steamed Soybean Meal with Water and Aqueous 2- Mercaptoethanol.

A. M. Nash, W. F. Kwolek, and W. J. Wolf. Copyright 1979 by the American Association of Cereal Chemists, Inc.

Mildly steamed, defatted soybean meals were extracted with water or with 0.01M or 0.0M 2- mercaptoethanol (2-ME). The extracts were dialyzed and then analyzed for protein content and ultracentrifugal composition. Protein extractability was increased by 2-ME. Ultracentrifugation indicated that the water extracts contained disulfide polymers of the 7S and 11S proteins; in the 0.01M 2-Me extracts, however, only the 7S proteins appeared to repolymerize when the reductant was removed by dialysis. In the 0.1M 2-ME extracts neither the 7S nor 11 S proteins repolymerized on elimination of the reducing agent. In contrast, in 0.1M 2-ME extracts of unsteamed meals, both 7S and 11S proteins repolymerized when dialyzed free of 2-ME.