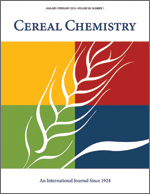 Cereal Chem 56:495 - 496. | VIEW ARTICLE
Note on Coumestrol in Soybeans and Fractions at Various Germination Times.

G. L. Lookhar t, P. L. Finney, and K. F. Finney. Copyright 1979 by the American Association of Cereal Chemists, Inc.

Coumestrol, an estrogenic compound found in most forage plants was determined by high performance liquid chromatography in germinated and ungerminated (Amsoy 71, Clark 63, and Columbus variety) soybeans and fractions therefrom. The coumestrol increased with increasing germination time and the increase in concentration of coumestrol ranged between eightfold and 200-fold depending on variety and germination time. Coumestrol level was highest in the hulls, which are readily separable from the beans.