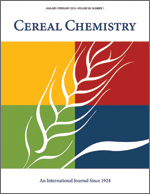 Cereal Chem 56:499 - 504. | VIEW ARTICLE
Physical and Physicochemical Properties of Starbonnet Variety Rice Fractionated by Rough Rice Kernel Thickness.

J. J. Wadsworth, J. Matthews, and J. J. Spadaro. Copyright 1979 by the American Association of Cereal Chemists, Inc.

Two lots of Starbonnet variety long-grain rice were used to study the variation of kernel properties with kernel thickness. The rough rice was separated by thickness into six fractions. Portions of each fraction were shelled and milled under identical conditions. For each fraction of rough and brown rice, the mean kernel thickness, length, width, moisture content, weight, volume, density, and porosity were determined. For the filled rice fraction, densities, water uptake values, and alkali spreading values were determined. Flours prepared from the milled rice fractions were used to measure peak and setback viscosities and gelatinization temperatures. The densities of the hulls from the various fractions were also determined. Mathematical relationships between the various properties were developed.