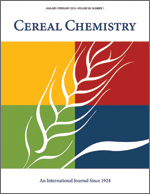 Cereal Chem 56:525 - 528. | VIEW ARTICLE
Isolation of a Trypsin Inhibitor from Navy Beans by Affinity Chromatography.

J. C. Gomes, U. Koch, and J. R. Brunner. Copyright 1979 by the American Association of Cereal Chemists, Inc.

A protein fraction that strongly inhibited the enzymatic activity of trypsin and chymotrypsin was separated from navy beans, Sanilac cultivar (Phaseolus vulgaris L.) by affinity chromatography with trypsin immobilized on agarose (Sepharose 4B). Under isoelectric focusing, the inhibitor revealed two zones at pH values of 4.40 and 4.45 for the major and minor zones, respectively. A molecular weight of 16,600 for the major component was determined by sodium dodecyl sulfate-polyacrylamide gel electrophoresis. A molecular weight of 11,900 was estimated from an inhibitor-trypsin interaction. And, finally, a minimum weight of 12,214 was calculated from amino acid data, based on the limiting amino acid, methionine. Absence of tryptophan, low methionine, and high half-cystine contents characterized the inhibitor. Its composition is similar to an inhibitor isolated previously from navy beans by ion exchange on diethylaminoethyl cellulose and gel filtration.