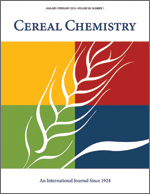 Cereal Chem 56:529 - 532. | VIEW ARTICLE
Effect of Drying Method on Grain Corn Quality.

R. B. Brown, G. N. Fulford, T. B. Daynard, A. G. Meiering, and L. Otten. Copyright 1979 by the American Association of Cereal Chemists, Inc.

Grain corn of five hybrids, harvested at different moisture contents, was dried by three methods. The drying methods were the high-temperature crossflow batch method, dryeration, and low-temperature in-bin drying. The laboratory quality measures of (a) test weight, (b) viability, (c) amount of kernel stress cracking, and (d) steeping performance, derived from visual examination of steeped kernel sections, were determined for grain dried with each treatment. Low-temperature drying consistently produced grain with high steeping index and test weight and a negligible amount of kernel stress cracking. Although low for all grain, viability was preserved most effectively by treatments involving drying air temperatures of 60 C or lower. Kernel stress cracking was prevalent in all batch-dried grain, regardless of the drying temperature. Dryeration was superior to the normal high-temperature batch drying method in the amount of kernel stress cracking and in the steeping performance and test weight of dried grain. Viability, test weight, and the amount of kernel stress cracking were correlated with the steeping index of corn, but the association was not close enough to permit prediction of steeping performance from these factors alone.