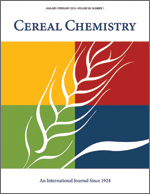 Cereal Chem 56:541 - 544. | VIEW ARTICLE
Evolution of Alpha-Amylase Components During Initial Stages of Barley Germination With and Without Prior Steeping.

A. W. MacGregor and J. Daussant. Copyright 1979 by the American Association of Cereal Chemists, Inc.

Conquest barley kernels were germinated for five days on moist filter paper or steeped for two days and then germinated in moist air for three days. Samples of kernels were collected each day and freeze-dried. Isoelectric focusing analysis showed that three main groups of alphy-amylase were synthesized in both series. Rocket-line immunoelectrophoresis and combined isoelectric focusing and crossed immunoelectrophoresis showed that 1) alpha-amylase activity and the amount of alpha-amylase protein increased in parallel during germination, 2) steeping preferentially inhibited the synthesis of alpha-amylase I, and 3) steeping decreased the alpha-amylase II/alpha-amylase III ratio during germination.