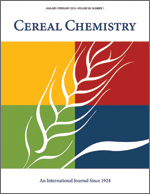 Cereal Chem 56:552 - 553. | VIEW ARTICLE
Bioavailability of Zinc in Cookies Fortified with Soy and Zinc.

G. S. Ranhotra, C. Lee, and J. A. Gelroth. Copyright 1979 by the American Association of Cereal Chemists, Inc.

The bioavailability of zinc in cookies fortified with three soy protein products (flour, concentrate, and isolate) was compared with that in cookies fortified with egg albumin. Protein products were added at the same (26%) protein level. The levels of zinc and with one exception (albumin-based cookies), of phytate phosphorus were also equal in all test cookies. Bioavailability was studied using young rats fed a submarginal (9 ppm) level of zinc provided entirely by the cookies. Growth rate, diet efficiency, and serum zinc levels of rats did not differ significantly between the five test cookies (three soy-based and two albumin-based). More sensitive parameters (femur zinc concentration and apparent zinc absorption), however, showed significant differences. When phytate was added to albumin-based cookies, both the femur zinc concentration and the zinc absorption were significantly reduced and approached values obtained with soy-based cookies. Among soy-based cookies, serum and femur zinc levels and apparent zinc absorption tended to be lower in rats fed cookies made with soy isolate than in rats fed cookies made with soy flour or concentrate. Less than 20% of phytate in cookies was hydrolyzed during baking.