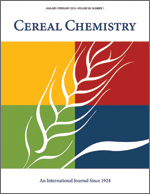 Cereal Chem 56:554 - 558. | VIEW ARTICLE
Starch Granules of Developing Wheat Kernels.

D. W. Baruch, P. Meredith, L. D. Jenkins, and L. D. Simmons. Copyright 1979 by the American Association of Cereal Chemists, Inc.

A Coulter counter was used to determine size distributions of starch granules during kernel development in bread wheats; the amounts of starch were also determined chemically. Results are presented as mass of starch per kernel, number of granules per gram of starch, number of granules per kernel, average granule mass, and limiting granule volumes for various mass fractions of the total. The results are consistent with the hypothesis that at least two populations of granules have distinct initiations and growth. Growth of the granules may be a dynamically fluctuatinmg situation in which both gain and loss of material produce an overall gain. The development pattern was similar for three cultivars in one season but very different for three seasons of one cultivar, which suggests a seasonal effect on size of starch granules.