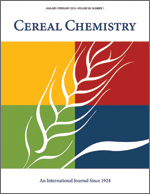 Cereal Chem 56:573 - 580. | VIEW ARTICLE
Effects of Legume Fortifiers on the Quality of Udon Noodles.

H. C. Jeffers, G. Noguchi, and G. L. Rubenthaler. Copyright 1979 by the American Association of Cereal Chemists, Inc.

The influence of several legume fortifiers on the quality characteristics of udon, a Japanese noodle, was investigated. Wheat flour was blended with 5, 10, and 20% of several commercially and experimentally prepared legume flours. The commercial flours were raw and cooked yellow pea and defatted soybean. Whole yellow peas, green peas, soybeans, and navy beans were experimentally prepared by steam cooking for 1 and 5 min, air-dried, and ground before being used to supplement wheat flour at the 10% level. Germinated soybean flours (cooked and uncooked) were also incorporated into wheat flour at the 10% level. Udon was prepared from these blends. Texture and yield of udon were only slightly affected by the presence of fortifier. The overall quality of the fortified noodles decreased with increasing levels of fortifier compared with that of the control noodle made with all-wheat flour. Cooking the legume fortifiers for as little as 1 min improved the taste and color of the noodles but had no effect on texture. The taste was dramatically improved by removal of the grassy flavor. Longer cooking time used in the commercially prepared pea flour was detrimental to udon color, indicative of inactivation of lipoxygenase. Noodles prepared with germinated and ungerminated soybean flours were similar. Generally, results indicate that for good quality udon, the level of legume flour supplementation should be no higher than 5-10%, depending on the individual legume.