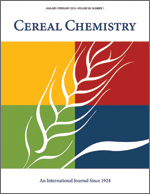 Cereal Chem 56:130 - 132. | VIEW ARTICLE
Processing Conditions to Inhibit Lysinoalanine Formation in Alkaline-Treated Proteins.

J. W. Finley and G. O. Kohler. Copyright 1979 by the American Association of Cereal Chemists, Inc.

Severe alkaline treatment of protein foods often results in the formation of amino acid degradation products such as lysinoalanine (LAL) in varying quantities depending on treatment conditions. Although several amino acid degradation products can be formed, the most easily measured is LAL. The presence of reducing anions such as bisulfite, bisulfide, and hypophosphite significantly reduced the formation of these products. Stirring and air incorporation were critical to formation of the intermediate compounds in LAL formation. Reduced air incorporation during treatment resulted in much lower LAL levels in final products.