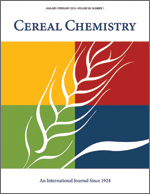 Cereal Chem 56:152 - 155. | VIEW ARTICLE
Determination of a Surfactant (Sodium 6-O-Palmitoyl-L-Ascorbate) in Bread by High Performance Liquid Chromatography.

D. J. Mauro, D. L. Wetzel, P. A. Seib, and R. C. Hoseney. Copyright 1979 by the American Association of Cereal Chemists, Inc.

Bread samples enzymatically digested for 1 hr were analyzed by high performance liquid chromatography in 10 min for sodium 6-0-palmitoyl-L-ascorbate, a dough conditioner at 0.5% of the flour weight with 2.3% relative precision for different loaves. A microBondapak C-18 reverse phase column was used with methanol-water (75/25) by volume to give efficient separation. Sample preparation, digestion conditions, and the chromatographic system were optimized for maximum analyte recovery. At least 81.7% of the added dough conditioner survived bread making. With the use of a suitable detector, the procedure may be generally applicable to surfactants in bread.